TBC & National STEM Day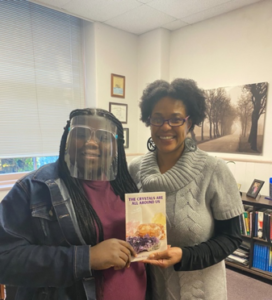 It's National STEM Day and The Business Center (TBC) would like to highlight our young entrepreneur! Meet Tamara, a past TBC Youth and Money Camp participant and a new author.
Tamara Alicia Brockington, Owner & CEO of Spiritual Gems LLC, is a teen science enthusiast.  While in the 4th grade at The Lotus Academy in Philadelphia, Tamara created a science project for the annual science fair about crystals. This is what inspired the birth of her 1st book – The Crystals Are All Around Us. Tamara has also just become a member of TBC.
In addition to earning a top prize in that science fair, Tamara has championed additional Science exhibitions and fairs like the Sun Newspaper & Orbit Energy & Power 2019 Sun Science Fair, where her project on micro bits granted her a finishing position as a Top 10 Finalist which was featured in the Sun Newspaper. This high-achieving student, whose favorite subject is chemistry, is on a mission to help young people enjoy the wonders of science as much as she does.
Having young Black people in STEM fields is extremely important. From a study done by Education Week, only 7 percent of the people who earn STEM degrees are Black. At every level, Black scientists are underrepresented according to Science News. Even though we are seeing more students pursue engineering and science degrees than ever before, the gap for Blacks students in these concentrations still remains.
A report from the Pew Research Center explains that Blacks in STEM jobs are especially concerned about diversity and discrimination in the workplace. Underlying reasons include limited access to quality education, discrimination in recruitment, promotions and a lack of encouragement to pursue these jobs from an early age.
Here at TBC, we pride ourselves on having representation for our youth of color in the STEM fields. One way we can develop more representation in these areas is by introducing kids early to science. This can be done through in-school, after school and summer programs, and by exposure to professionals of color already in areas of STEM. This will boost the confidence of these students early on, creating a strong foundation for them to have the stamina for a career in STEM. TBC offers entrepreneurship STEM programs. For more information please visit www.thebizctr.com/youth or call 215-247-2473.
Watch Tamara's book launch video: